Award Winning Calgary SEO
Are You Struggling to be Noticed?
Are you struggling to get noticed in the crowded online marketplace in Calgary and elsewhere? Are you ready to take your business to the next level by reaching a larger audience? Then it's time to invest in Ducktoes Calgary SEO!

Locally owned and operated, Ducktoes SEO is proud to call Calgary home. We love working with Calgary companies to increase their web traffic and get more business.  Ducktoes SEO values service and building community. So when you give us a call or send us an email, you'll get a prompt and friendly reply. Our number is 403-483-0105 and here is our contact page.



But You're Asking, What Exactly is SEO? And How Will It Help Me?
Search engine optimization, or SEO, is the process of improving your website's visibility and ranking on search engines like Google. By optimizing your website's content and structure, you can increase your online presence and attract more potential customers to your business.
What We Do and Don't Do at Ducktoes
But You're Asking, What Exactly is SEO? And How Will It Help Me?
Search engine optimization, or SEO, is the process of improving your website's visibility and ranking on search engines like Google. By optimizing your website's content and structure, you can increase your online presence and attract more potential customers to your business.
What Your Competitors Don't Know Yet About Calgary SEO
Many of your competitors in Calgary don't know yet about SEO, and how much it help grow their business, so you'll grab more of the online market for whatever business you're in, if you start before they do. What they don't know will hurt them and help you.
And What You May Not Realize: SEO is Cost Effective


SEO is a cost-effective and sustainable way to grow your business. Unlike traditional advertising methods like radio ads, brochures, and printed ads, which don't really work anymore,  Calgary SEO brings much more traffic and revenue at a fraction of the price.



So Why Not Invest In SEO Now?
When you invest in SEO, you'll see an increase in website traffic, higher conversion rates, and ultimately, more sales and revenue for your business. With the right SEO strategy, you can outrank your competitors, establish your brand as an authority in your industry, and connect with your target audience in a more meaningful way.
So if you're ready to take your business to the next level and see real results, invest in SEO today. Let's work together to build a customized SEO strategy that's tailored to your unique business needs and goals. Contact us now to get started!  Call (403) 483-0105.
What Calgary SEO Can Do For You: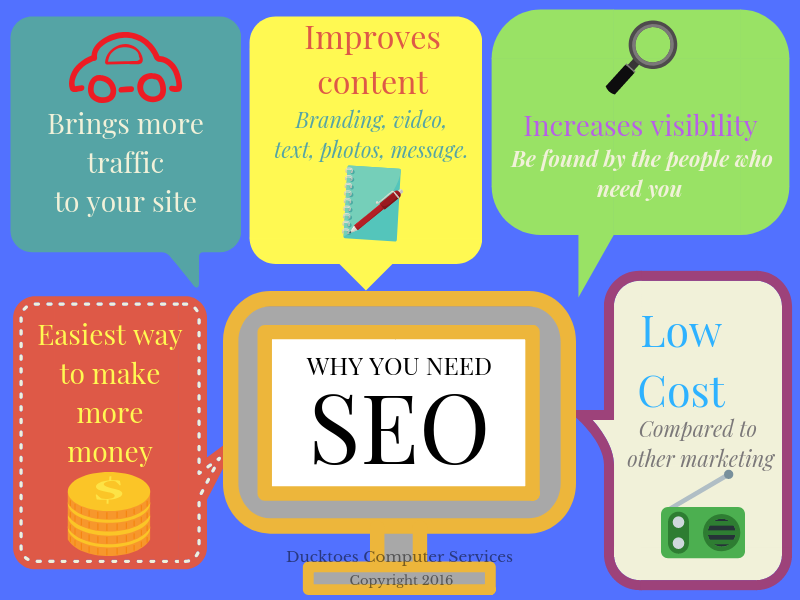 Get More Business And Revenue With Ducktoes SEO in Calgary
Still Not Convinced? We Really Can Help You Grow Your Business
If you are currently on the lookout for an SEO company in Calgary, it's possible that you've been experiencing challenges related to your website's traffic or revenue. It could be that your potential customers are not fully aware of the products or services you offer.
Your business could be the excellent in your field but won't be noticed if you don't rank.
The Problem With Not Doing SEO is This:
If the people who need you don't know you exist, they won't be able to buy your services and products.
But Don't Worry, Because We at Ducktoes SEO Can Help.
Our top-notch search engine optimization expertise can increase your online visibility, enabling you to reach your target audience effectively. This, in turn, can result in more traffic, more business, and ultimately more revenue.
At Ducktoes, we are committed to providing the best SEO strategies for businesses in Calgary and elsewhere. With our help, you can make a splash on the web. So why wait? Get in touch with us today and see the difference we can make for your business.
After We SEO Your Website, You Will Be Found
After we optimize your website, you will be found by the people searching for your services and products.
You'll Be Happy Indeed
If you're as happy with our last few clients, you'll be happy indeed!
So get more revenue with our SEO services, and make a splash on the web with Ducktoes!
Call (403) 483-0105 to get started or send us a message:
SEO Calgary Expertise
At Ducktoes, we are trained search engine optimization (SEO) experts with advanced certifications. We've serviced over one hundred businesses and each of them ranks on the first page of Google. Many of them had little or poor web presence before hiring us. After a six to twelve months of our SEO, these clients saw an increase in site traffic and revenue generated from our onsite strategies.
We are Calgary locals, who understand the ins and outs of doing business in Calgary and Alberta. SEO requires a local touch, and we have that.
These up-to-date and effective strategies get you the business you need. You don't need to stay on the back pages of search engines any longer. Make a splash on the web with Ducktoes SEO!
Call our Calgary office to find out more about our services: (403) 483-0105.
First, we do a technical seo audit of your website to find your sites's strengths. We then capitalize on the strengths and address the weaknesses. Hundreds of components are analyzed. From this analysis, a strategic digital marketing plan is created, fully customized for your business and priorities. The changes will make your website rank higher in the Calgary market against all your competitors.
Then we set your business up in Google Search Console for all four of your domains, the https:www and non-www, the http:www and non-www. You'll need a sitemap, robots.txt, and other features configured within the console. This is extremely important for your SEO.
We set up Google Analytics for your site. Google Analytics is Google's free web analytics utility that lets you to analyze in-depth data about the potential clients that visit your web pages. This data provides valuable insights about your website that can shape the SEO strategy and success of your business.
Next, we do keyword research and find what people are searching to find businesses like yours and what keywords would bring you the most revenue. Your money keywords, we call them.
Informative and well written content is an important part of SEO. Our team works with you to create high quality content that will generate web traffic and leads for your business. Learn how we do it. 
Next we do off-site SEO including quality backlinks and citations. Content is king but backlinks are queen, and she wears the pants.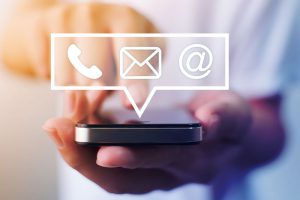 The citations we create for you help you be higher on the Google local 3-pack and the map. They include your NAP (name, address, and phone number.)
Next, we "creep" your high ranking competitors to see what strategies they are using. Then we mimic and enhance those strategies so you will rank higher.
After researching your business niche and keywords, we do onsite seo including titles, meta-descriptions, meta-tags, alt-tags, body word count, and keyword percentages.
Why Go with Our Calgary SEO Services
Our results and numbers speak for themselves.
All our SEO clients reach the front page and then move higher.
Their revenue and sales grow as their traffic and ranking grow.
Our prices are lower than other reputable agencies and our certifications, expertise, and training are greater.
Unlike some of our competition, we only use ethical digital marketing practices that won't get your site penalized by Google.
We provide effective and competitively priced SEO Services in Calgary.
Search Engine Optimization Problems Ducktoes Solves
Low Ranking
Low traffic and revenue
Local SEO problems
Google Penalties
Negative SEO
Index and Crawl Errors
Lack of visibility
Slow websites
Sites lacking mobile responsiveness (that don't work on smart phones or tablets)
Call for more information:
Cathie Dunklee-Donnell, Certified Advanced Digital Marketing Analyst, SEO Consultant (403) 483-0105, or send us a message.
Ducktoes Consultants Preparing a Client Strategy:
Most of our clients are located in Calgary and Victoria. We offer local Calgary services and do all our own work. We don't hire companies overseas to provide our services.
Content Creation for Online Marketing and SEO
Google designs its search rankings so that sites with high quality content and backlinks rank higher than sites without them. You need to have an awesome site with awesome content. Our SEO services can help you make your site the best it can be. This is the best digital marketing strategy you can pursue. We will help you put content on and off your site to get you where you need to be. We also place you in high quality directories.
Content creation cannot be underestimated. It is the most important aspect of your web design. Google stresses the importance of content over all other components of a website. We can help you develop that content. We write text, make videos, take or find photos, or guide you in doing those things for yourselves.
What is Search Engine Optimization?
The initials SEO stand for search engine optimization. SEO is a series of steps and actions that facilitate a higher ranking in organic search results on search engines such as Google or Bing. This is different from pay-per-click ads which appear in search results as paid ads. Organic results are unpaid.
SEO includes making onsite changes to your web design and content that make your site more likely to be displayed in the top results. It also includes backlinks and mentions from other sites.
FAQ: What is SEO?
SEO or search engine optimization is a service that increases the visibility of a website or web page to users of web search engines such as Google or Bing.
SEO uses internet marketing strategies such as on page ranking factors and offsite content and authority backlinks.
These internet marketing strategies increase ranking in the search engine results pages called SERPS.
An increase in the SERPs usually means more traffic for the website and more revenue for the business.
Here is an excellent resource that will tell you all about SEO.
Search Engine Optimization Procedures:
Technical SEO audit and fixing technical issues
On-site optimization and ranking factors.
Content is king, but links are queen. And she wears the pants. You'll get both content and links with us..
Keyword Research. You'll be optimized for keywords and advanced latent semantic indexing that will bring you the most traffic and business.
Competitor Research. We'll find the SEO strategies and techniques your successful competitors are using and use them in your optimization strategies.
Quality backlinks. You'll get high ranking backlinks to signal relevance and authority to Google.
Citations. You'll receive citations to improve local search and Google map rankings.
Onsite optimization. You'll get optimized and unique title, meta-description, and other tags.
Content optimization. We'll make your site the site Google wants to serve in search results with onsite and offsite content.
Google My Business. We'll configure and optimize this and help you get on the map on Google search results.
Geotargeting / International targeting- Your site will be on the proper geographic location.
Sitemaps – You need both XML and HTML sitemaps.
robots.txt – We'll create a proper robots.txt and include it in your Google Search Console account.
.htaccess – We'll make sure your site is being forwarded to the proper canonical site.
Preferred domain – We'll choose either www or non-www.
Website Analysis- To make sure you have the optimal amount of keywords, text, headings, and meta tags in the proper order and are following best practices.
Local Search Optimization – optimize your site for local search with schema markup such as JASON-LD.
Google Analytics – We'll set up your Google Analytics account and analyse, check tracking, and filter spam.
Google Search Console/Webmaster Tools – set up, review, and maintain.
Competitors – Analyse competitors off and onsite SEO practices and website.
Keyword Tool- Use of keyword tool to find optimize keywords relevant to your search for PPC.
Text – Analysis of text to use quality, natural sounding and user friendly text with no keyword stuffing.
Bad links – Check your site for negative SEO, scraper, or spammy links.
Remove or disavow bad links if necessary.
Other optimizations and strategies.
Why You Need SEO
SEO and digital marketing is the easiest way for any Calgary business to make more money online.
Our Calgary search engine optimization agency is low cost, since it is much less expensive than other marketing such as print, television, radio, billboards, yellow pages, or newspaper ads.
Ducktoes search engine optimization is more effective and reaches more people.
The best Calgary SEO services also improves branding and content. Since much of our SEO and digital marketing is about developing content: branding, blogs, sales pitches, video, and graphics. Digital marketing (SEO) also improves the content of your business.
Internet marketing increases your visibility and lets you be found by the people who need you, the people who are searching for your services and products…
Certified Search Engine Optimization Agency
Our digital marketing staff are all trained in SEO and local to Calgary. Cathie Dunklee-Donnell is certified in Advanced SEO from Bruce Clay, SEO Trainer.
Cathie is also trained and certified by Yoast SEO.
Calgary Adwords and PPC Help
Ducktoes is a Google partner for Adwords. Ducktoes can also help you set up and maintain your PPC or Adwords Campaign. We can create ads, optimize your pages for quality so the Adwords will be less expensive, and tweak them to run even better.
We also have a SEO Blog for beginners.
Derek Brown
Best Calgary Driving School
"Been with Ducktoes Calgary SEO for over 10 years. awesome service with 3 different websites . Thanks to this Cathie keeping on top of our SEO services, we are now the number 1 driving school in Calgary even above AMA. Amazingly friendly staff. I would and will recommend to anyone."
Lee Otterholt
Laguna Dancers
"Personalized service and follow-up. They took my old website, made it look awesome aesthetically and much easier to navigate, and they did that for a very reasonable price. I would recommend them to anyone!"
"Ducktoes got me more business than I've ever had. I was reluctant to try them since another company got me zero traffic or anything at all. But Ducktoes delivered and my ROI has been surprisingly good. We're busy all the time."
Ducktoes SEO knows how to get you more business and more revenue. So get started today!
For SEO Calgary Services – Call (403) 483-0105 today, or send us a message.